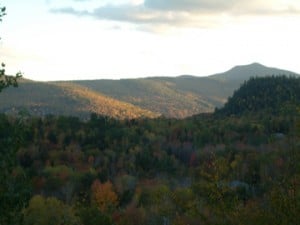 School is back in session, the evenings are cooler, and throughout New England, the leaves are starting to turn vibrant shades of crimson, mustard, sienna and gold. Few places in the world put on such a dramatic display as the northeast corner of the United States. If you are considering traveling to this region to view the brilliant leaves this fall, here are ten of the best places for viewing fall foliage.
1. Green Mountains, Vermont
The 88-mile fall foliage route in central Vermont's Green Mountains offers some of the best leaf viewing in the world. The circular route takes you through Woodstock, Pittsfield, Killington and the Green Mountain National Forest.
2. Bangor/Acadia National Park, Maine
The drive from Bangor in south central Maine to Acadia National features not only spectacular leaves, but takes you past some of the most picturesque and authentic fishing villages in the northeast. The leaves change early in Maine, so make this drive in September.
3. Crawford Notch, New Hampshire
Take SR 302 through this scenic valley, nestled within White Mountain National Park in central New Hampshire. In addition to the multi-colored leaves, you will likely be rewarded with a glimpse of Mount Washington in the distance, dusted with a coating of early snow.
4. Litchfield Hills, Connecticut
Connecticut's SR 7, which runs north and south along the Housatonic River in the western part of the state, is listed among Frommer's best places to view leaves. The leaves in this relatively uncrowded, yet scenic leaf-viewing spot, peak in early to mid-October.
5. Concord, Massachusetts
Located just outside of Boston, Concord is not only a historic site; the area surrounding this town erupts with color each fall. Particularly lovely is the area surrounding Walden Pond, where Henry David Thoreau wrote his famous book in the mid-19th century.
6. Berkshire Mountains, Massachusetts
The Berkshire Mountains of western Massachusetts are on Fodor's list of best fall foliage spots. This rural area peaks around mid-October and visitors can meander through meadows and forests as well as along rivers and creeks.
7. Rhode Island
This tiny state is sometimes forgotten on lists of popular New England foliage tours, but the fall foliage here in early to mid-October rivals its more well-known neighbors. Venture outside of the cities, to the uncrowded northern and western part of the state for maximum color.
8. The Cornwalls, Connecticut
The rugged northwest corner of Connecticut, named for the collection of small towns named Cornwall, is higher in elevation and peaks earlier than the rest of the state. The area also features an authentic covered bridge and parts of Mohawk State Forest.
9. Hudson Valley, New York
Though not technically part of New England, the neighboring Hudson Valley has some of the most brilliant colors in the US. Take route 9 from Newburgh to Albany. In addition to the leaves, you will pass historic homes, like FDR's Hyde Park mansion, and dramatic views of the Catskill Mountains.
10. Stowe, Vermont
Though most famous for its ski resort, Stowe, in north-central Vermont, offers dramatic leaf displays each October. The area also boasts a thriving arts and theater community and hiking on and around Mount Mansfield.
Travel Services From Boston Personal Concierge
If you would like to start planning your own New England fall foliage tour, it is not too late. We can take care of all your trip planning details and will happily put together a fall leaf tour that you will be talking about for years to come. To take advantage of our travel services contact us at 617.209.9311 for more information.
Image credit:  Susan Ho