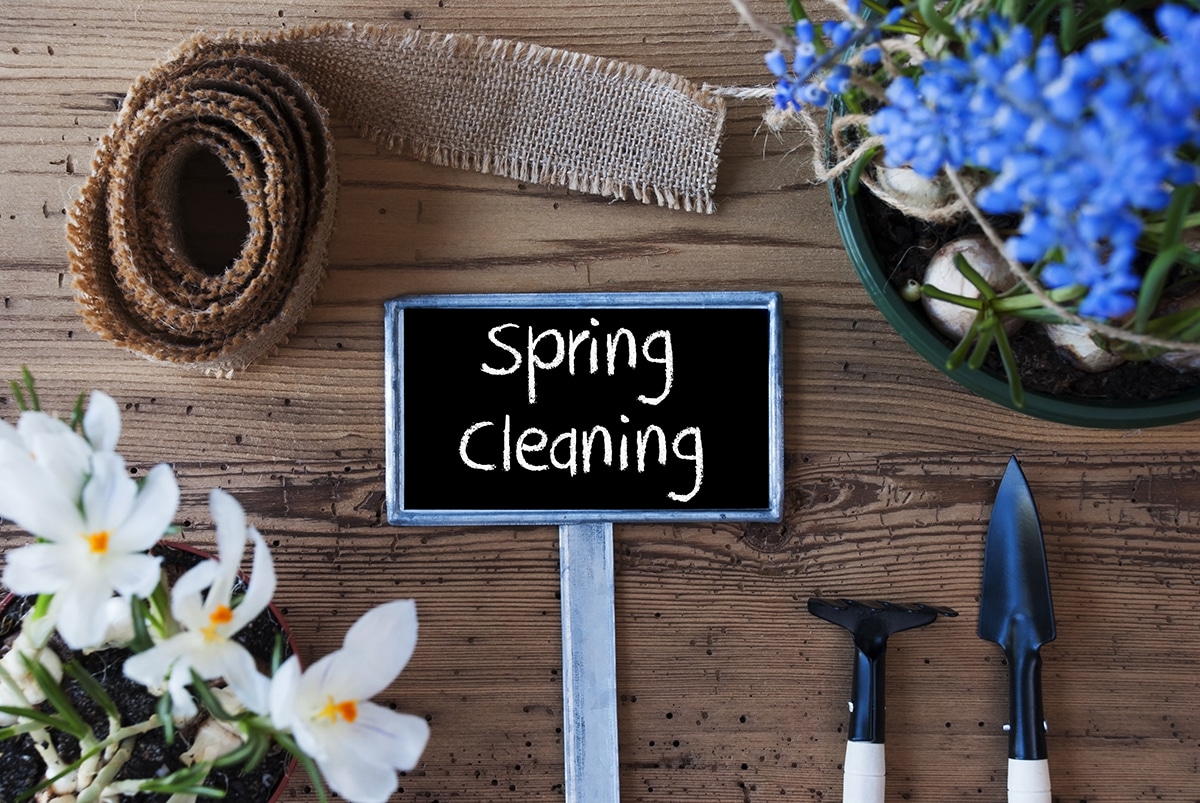 If spring cleaning has been on your mind lately and you're wondering when the best time to start is, the answer is likely right now! While things may still be chilly, there's no denying spring is here, which means there's no time like the present. Before you know it summer will be here too and you will not want to waste it dusting and scrubbing floors, so to help you get started, below are some fantastic tips for when and how you should tackle this feat.
Best Time To Spring Clean
Did you know there's a right time of day to clean, or that the weather can make a difference in the effectiveness of your efforts? It's true! According to most professional cleaners, the best time to clean is anytime before 3 p.m., the earlier the better. You will also want to make sure you wait until a day when the sun is out and the weather is clear. Why? A few reasons actually. Around three o'clock is when the sun usually begins to fade, which means dust, dirt, grime, cobwebs, and other blemishes become harder and harder to see the longer the day goes on – same with cloudy/rainy weather. Also, the warmer and dryer it is, the easier it will be for you to keep your windows open and let fresh air circulate through your home, ridding your home of smells and keeping your home from becoming overwhelmed by a cloud of cleaning solution.
Get Your Supplies Ready
If it's been a while since you performed a thorough deep clean of your home, you're going to want to make sure you have all your supplies gathered ahead of time because once you get your momentum you're not going to want to stop. You're going to need cleaners, soaps, sponges, gloves, towels/rags, mops, brooms, vacuums, and more – so make a list of all your favorite products and utensils beforehand so you know exactly what you need to get.
Don't Forget
Most people remember the big stuff like dishes, laundry, dusting, vacuuming, and other routine chores that usually get handled every week anyway. However, it can be easy to forget about all the nooks and crannies lurking around your property. If you're trying to accomplish the most thorough spring cleaning though, you will definitely not want to forget to:
Change all your filters.
Replace the batteries in your smoke detectors, remotes, etc.
Wash your walls, doors, baseboards, and ventilation covers.
Launder all your bedding, curtains, throws, pillows, rugs, couch covers, towels, potholders, and other linens.
Disinfect all doorknobs, cabinet handles, light switches, window sills, and other frequently touched surfaces.
Clean all your blinds and window tracts.
Flush all your pipes and plumbing, removing any debris from your drains.
De-clutter/organize every room, drawer, cabinet, and crawl space – get rid of what you don't need.
Pack away all your winter clothes, heavy blankets, and other seasonal essentials.
Clear out and clean any fireplaces and/or grills.
Wash and polish any wood furniture.
Clean/freshen and rotate your mattress.
Get rid of any old medications/prescriptions/supplements.
Clean all home appliances inside and out according to the provide manual/instructions (refrigerator, freezer, oven, microwave, dishwasher, washer, dryer, etc.)
Clear out your spice cabinet, pantry, fridge, and everything else of all old, stale, or past-dated foods and edible products.
Wipe down the insides of your cabinets.
Wash/dust/wipe down all your lighting fixtures, wall art, and decor.
Wash/clean your porch/patio and outdoor furniture.
Clear out your closets.
Don't be afraid to take a few days before you begin to really walk around your house and look at every little thing you might typically miss in your routine cleanings so you can add it to your list. Your spring cleaning should always be personal to you, and adapt to your household's unique needs.
Last Minute Tips
Follow a system so you never miss a spot. The most common to use is to always work from left to right, and from the top to the bottom. For instance, you will always want to dust starting as high up as you can so when the dust falls and settles, you catch it on your way down – another reason why you should always dust before you vacuum any room! Also, if you own pets, you may want to have them groomed before you begin to avoid excess pet hair and such diminishing your progress. Most importantly, don't be afraid to reach out for additional help or advice if you feel like you need it. Our specialists at Good Neighbor Concierge will always be here to help you absolutely slay your spring cleaning! Reach out to Good Neighbor Concierge today at 617.209.9311 or fill in the form in the sidebar to schedule a no-obligation needs assessment at a time that is convenient for you.