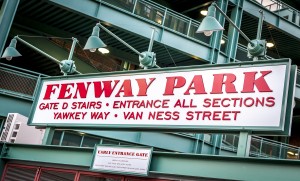 Boston is home to the Freedom Trail, museums, world class shopping, art galleries, fine dining, a multitude of festivals and events and of course sports.  Welcoming over 18 million visitors from around the world each year, baseball is one of the most popular reasons for travel to Boston today, especially since they won the World Series in 2013.
America's pastime is featured in cities around the U.S. and dates back to the 18th century. By the 1860's, the first semi-pro baseball clubs were being developed in cities around the U.S. Boston's history of baseball is some of the earliest and by 1901, Boston was already making a name for themselves in the American League as the Boston Americans. In 1908, the Boston Red Sox were born.
Today, the Boston Red Sox rank as one of the best MLB teams. They have won three championships, have seven 90-plus win seasons and have made it to 6 postseasons in only 10 years.
Since 1912, the Boston Red Sox have called Fenway Park home. The oldest ballpark in the Major League, Fenway is host to more than ballgames. Come for a game and then stay for a tour. A classic ballpark, Fenway Park tours are one way to enjoy Boston. Tours of the park range from public tours which allow you to tour the park and learn a bit more about the history or for the diehard fans, maybe a Day Game Premium Tour or even a birthday package would be ideal.
Hoping to get to a Sox game this year? If you are planning your trip to Boston to see a game, you can see their schedule here.
Boston is proud of all its teams. New England Patriots, Boston Celtics as well as the Boston Bruins are a few of the many other sports teams Boston has to offer. Sports aside, this season is one of the most exciting and best to visit Boston. The temperatures are mild, the flowers are beginning to bloom and aside from sports fans, a majority of the busy tourism season has yet to begin.
Boston Travel Services From Good Neighbor Concierge
If you are planning a trip to Boston or would like to start planning your trip to Boston whether it be for baseball, art, music, just a vacation or for business, Good Neighbor Concierge can help. Good Neighbor Concierge is a Boston Personal Concierge serving Boston and all of the Greater Boston area. Our travel services can help you plan, travel, organize and coordinate your trip to Boston. Save time, get a great price, enjoy personal service and take advantage of the expertise of someone who knows from Good Neighbor Concierge. Contact us today to learn more or for a free consultation at 617.209.9311.