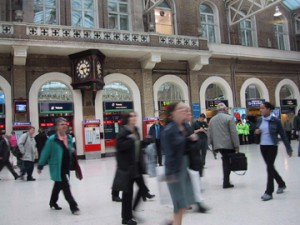 Today is your wedding anniversary. It should be a night of celebration with your partner. But, you have been so busy you forgot to make dinner reservations. Not that it matters because your best outfit is still sitting at the dry cleaners (even though it's been ready for two weeks), you didn't book a babysitter and you are in charge of soccer practice snacks tomorrow. So, instead of gazing lovingly into your partner's eyes over a meal and bottle of wine, you'll be eating takeout and falling asleep on the couch while watching Netflix.
Where does all the time go?
A Little History

There was a time when we had more time. Before World War II, most homes had domestic workers who helped with errands, laundry, dishes and caring for children or elderly parents. The Great Depression, changing social norms, and the Civil Rights movement brought an end to the predominance of domestic workers in middle class homes. Then, women began entering the workforce and now nearly half of the entire workforce in the United States is made up of women.
So Busy

With so many of us working, raising children and engaging in civic life, time begins to slip away and we get busy, even though we know this is unhealthy for us. Magazines are full of lists for busy people — six workouts for busy people, recipes for busy moms, how to "have it all." A New York Times column went viral on Facebook and social media urging us to avoid the busy trap. But how?
Errand Running Services

More and more people are finding a way out of the busy trap and finding ways to get the help domestic workers used to provide without hiring a live-in maid, nanny, cook and personal assistant. Errand running services have grown in popularity across the country as busy professionals discover ways to buy back more of their time.
Let's go back to your anniversary plans to see how this works. An errand running service could have:
Noted this date in your calendar and made dinner reservations for you from a list of your favorite restaurants;
Picked up the dry cleaning the day it was ready;
Scheduled a babysitter;
And picked up snacks for soccer practice.
Errand running services go beyond just taking care of household tasks, though. These services can:
Help plan parties and events;
Take care of travel plans and preparations;
House sit or pet sit;
Help organize and maintain your home office (bills, taxes, receipts, etc.);
And even help families and seniors with tasks like meal planning.
Life was always busy. We just used to have more tools to help us manage the busy-ness of it all. Errand running services are the 21st century tool for gaining more control over your life and your time. Check it out because we know you don't want to eat leftover takeout on your anniversary.
Image credit:  Thorarinn Stefansson