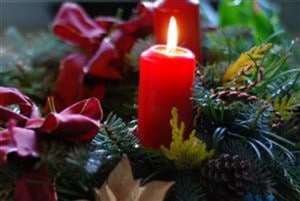 The holiday season is brimming with crowds, festive parties and family gatherings, and an extra helping of stress.  While you should always keep healthy and safe throughout the year, it is especially important to be vigilant this time of year.  Add one more gift to your gift list this year: the gift of good health and safety for you and your loved ones.
Food Intake & Activity
Temptations are everywhere on the buffet table.  Don't let the holidays be an excuse for overindulging.  Watch portion sizes and limit foods that are high in fat, sugar and salt content.  Limit alcohol intake and caloric-heavy holiday beverages such as eggnog.  Get up and move.  Even moderate amounts of activity can burn up extra calories that would otherwise end up in the waistline.
Hygiene & Vaccinations
Cold weather season means an increased likelihood of coming down with an illness.  Get a flu vaccine every year.  Minimize the spread of germs by scrubbing hands with warm water and soap, or use an alcohol-based sanitizer gel.  Cough or sneeze into a tissue or your shirtsleeve, not into the hands. 
Clothing
Cold temperatures can cause serious health problems; infants and the elderly are especially vulnerable.  When exploring the outdoors this winter, stay dry and cover exposed skin as much as possible in hats, scarves and gloves.  Layers of loose-fitting clothing are best. 
Stress
Limit commitments and be mindful of overspending.  Balance recreation, home life and work obligations.  Welcome the support from family and friends.  Keep a relaxed, positive outlook.  Try yoga, meditation, or deep breathing exercises.  Aim for more sleep.
Road Safety
If you will be enjoying one too many cocktails, designate a responsible driver and never allow a loved one to operate a car when intoxicated.  Fasten seat belts on every car ride, no matter how short the trip, and ensure children are buckled up in an age-appropriate child safety seat or seat belt.
Tobacco Smoke
Whether a cigar or cigarettes, the dangers of lighting up are well documented and it is equally dangerous to be around secondhand smoke.  Avoid both.  If you are a smoker, seek professional assistance to help with quitting, for your health's sake. 
Child Safety
Despite all the distractions, parents with young children should be alert for potentially dangerous food, toys, and other objects that can become choking hazards. 
Fire Safety
House fires are very common during the winter months.  Minimize fire hazards by never leaving holiday lights, candles, heaters, or the fireplace unattended.  Inspect holiday lights for excessive wear before putting them up.  Never place a lit candle near the Christmas tree.  Be sure to have a home fire escape plan in place and practice it often.
Emotional Well-being
The holiday season is chock full of happy moments, from family gatherings and endless feasting to giving that perfect gift and seeing the smiles on our children's faces.  For some people, however, the holidays bring feelings of sadness, loneliness and tremendous stress.  Don't avoid those feelings; acknowledge them, and share them with those around you in a positive way.
The holidays are stressful enough without an unexpected accident or illness.  Socialize and celebrate good times with friends and family, adopt safe behaviors, and create habits that stay with you all year around.
Personal Concierge Services
If you are feeling overwhelmed, don't let the stress of the holidays get you down. Take advantage of the personal concierge services from Boston Personal Concierge to help you. Contact us at 617.209.9311.
Image credit: Alfred Borchard