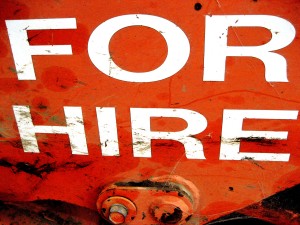 When interviewing someone for any profession, being equipped with a carefully planned list of questions is important to determine the best candidate for the position. When hiring a personal concierge service, this is absolutely essential. Your concierge will have access to many personal details of your life, and you need to be certain that they can be trusted. These ten questions will help you determine whether the person you are interviewing is the best fit for you and your family.
1. What experience do you have?
While it is not necessarily wrong to select someone new to the business, you need to know they have the right skills. Some of the qualities a concierge needs to have include good communication skills (written and oral), exceptional people skills, and the ability to juggle multiple tasks. If you are dealing with an agency, find out who manages employees and if employees receive any special training.
2. When are you available?
If weekends or holidays are high-need times for you, be sure to ask whether or not the concierge is available. Do you need someone available late at night or early in the morning? Determine how many other clients they have contracts with, especially if you are going to be requiring a great deal of their time.
3. What services do you offer?
Ask about anything that is especially important to you, or that might seem out of the ordinary to other people. For example, if you plan to ask for assistance with pets or children or assistance with locating a grave in another country, you will want to know their experience and level of comfort.
4. What was one of the most difficult assignments you have handled for a client?
Not only will this question help you determine whether or not the person can manage difficult or stressful tasks, but you will also learn about their discretion.
5. Have you ever been terminated or suspended from a job?
What you are looking for in their response is a sense of how the person reacts when admitting something unpleasant. Does the answer seem honest? You need to feel like your personal concierge is someone you can trust.
6. Do you drive?
If any of the tasks you need require driving, you will want to know that person has a clean driving record. This is especially true if he or she will be driving your car, in which case, you will need to make sure you are adequately insured. If the concierge will be using his/her own vehicle, you need to know that it is reliable.
7. Are you licensed, insured, and bonded?
Business requirements for licensing vary from state to state and city to city. If one is required in the area where the concierge will be providing services, then be sure he/she is complying with this requirement.
Ask if there is adequate liability insurance coverage in the event a service goes wrong or there is an injury.If you are working with an agency, you will want to know what type of employee screening has been done. If there is any concern for employee theft, then be sure they are bonded.
8. Have you or your business ever declared bankruptcy?
This question will give you a glimpse of the candidate's financial responsibility, which is extremely important if they are going to be handling your money.
9. What would previous clients say about you?
While the concierge might have on-hand glowing testimonials left by satisfied clients, personally contacting a few former clients provides an opportunity to get a real sense of the concierge's work style, credibility, etc.
10. Will a confidentiality agreement be needed?
Depending on the tasks you are asking of the personal concierge service, this could be essential. For example, will they be handling any of your financial matters or dealing with your correspondence?
Hiring a personal concierge service in Boston can be a daunting task. This person will become involved in many details of your life. You need to know the person you select is reliable, trustworthy, and discreet. Perhaps most importantly, you need to feel that he or she is a good fit with your life.
Image credit:  Petria Follett