I was walking around the Brighton
neighbor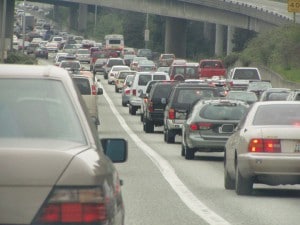 hood the other day and with every direction I turned, I could not help but notice the enormous amount of cars idling in traffic.  Every direction.  Cars trying to maneuver around a delivery truck making its morning rounds.  City buses packed with weary passengers, jostling for position.  School buses loaded with children struggling to get through the traffic and make it to the schools on schedule.  Add in the occasional ambulance and/or fire truck and you've got the extra noise pollution to contend with, in addition to the exhaust fumes to hike up your blood pressure. To add to the mix, there are cyclists, joggers, walkers, stroller-pushing parents, and other ordinary pedestrians trying to work the sidewalks and roads and make it to their destinations safely and not get run over.  It's a scary jungle out there.
And when traffic gets this bad in the city, tempers flare big-time.  Drivers' patience runs thin, extremely thin.  Horns go off in all directions.  Drivers' behavior becomes outright obnoxious.  Shouting matches, profane language, and obscene gestures are sometimes exchanged.  Certainly nobody wants to sit through mind-boggling traffic, but let's admit it: it is far more convenient and quicker to get from Point A to Point B by car than by other means.
In many of the major cities across America, sitting in traffic comes at a hefty price tag: lost time that could have been spent working, extra money spent on fuel, increased physical stress, among others.
So, while the traffic is unavoidable a lot of times, there are ways to make your ride a more pleasant experience.  Here are a few ideas:
Wrap your mind around everyday things you can do to simplify your life.
Find a favorite radio station and sing a song out loud.  Music can be very therapeutic!
Beat the traffic madness by leaving the house 30 minutes early in the mornings. Have an alternate route as a backup. Stay calm.  You can't change the traffic situation, but you can change your attitude towards it. After a long day commuting, the last thing you want to think about is running errands.  Ask for help.
Happy Commuting!
Image credit:  Dave Gostisha