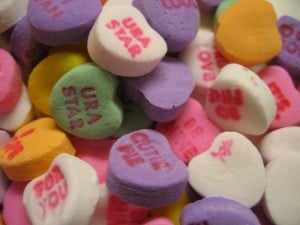 Finding the perfect way to spend Valentine's Day is easy with a little planning. Take a look at some of this year's best ideas for Valentine's Day in Boston and make it a memorable one.
Take a cruise around the harbor – Odyssey and Spirit are both offering dinner cruises on Valentine's Day. Live entertainment, fine dining, dancing and moonlit strolls all while onboard a luxury liner in Boston Harbor makes this the ultimate in elegance.
Stay for the weekend – Dozens of hotels offer packages for the romantic couple getting away for the weekend in Boston. These romantic weekend getaway packages often offer champagne, chocolates, special dinners, dancing and much more. Imagine a rose petal turndown, breakfast in bed and a cozy fireplace, all just miles away from the most exciting parties and most romantic restaurants. Fifteen Beacon Hotel, Fairmont Copley Plaza Boston and Midtown Hotel are just three of many hotels in the area offering romance packages.
Enjoy some music – Visit the Museum of Fine Arts in Boston on Valentine's night from 6-8 pm for some beautiful music ranging from classical to contemporary.
Learn together – Take a trip to the Boston Wine School to learn about wine and chocolate.
Do something new – More than just dining, Dining in the Dark is a unique Beacon Hill experience taking place on Valentine's night at the Hampshire House. Interactive theatre, fine dining and an experience all in one could certainly make for a memorable Valentine's Day in Boston.
Enjoy a festival – The Boston Wine Festival runs from January through April; however, during the week of Valentine's Day, plenty of special events are going on at the Harbor Hotel including special wine dinners, dances, live music and more.
Tips For Your 2014 Valentine's Day
Don't forget the date – Valentine's Day is Friday, February 14th, 2014.
Plan your dinner in advance – If you are planning dinner and haven't booked your reservation yet, start thinking about it now as many of the most romantic restaurants will be booked well in advance of the date.
Be creative – Try something new, go somewhere you haven't been together, make a new memory together.
Give a gift that lasts more than a minute – While roses are romantic and beautiful, a gift that will last far longer is even nicer. Jewelry, a framed photo of you together, a love poem or a weekend away are also wonderful and thoughtful gifts that will last a lifetime.
Most of all, just be together. Valentine's Day is about being together. No matter what he or she enjoys, the secret to a great Valentine's Day is putting their interests first.
Good Neighbor Concierge Offers Personal Concierge Services Boston
If you need help planning your Valentine's Day in Boston, Good Neighbor Concierge offers a variety of personal concierge services Boston that may help you. From errand services to travel services, entertainment and party planning services, we can help you make sure that everything is taken care of. If you are looking for personal concierge services Boston for Valentine's Day, contact us at 617.209.9311 or fill out our free consultation form to the right.
Plan something special for the one you love this Valentine's Day and enjoy your time together.