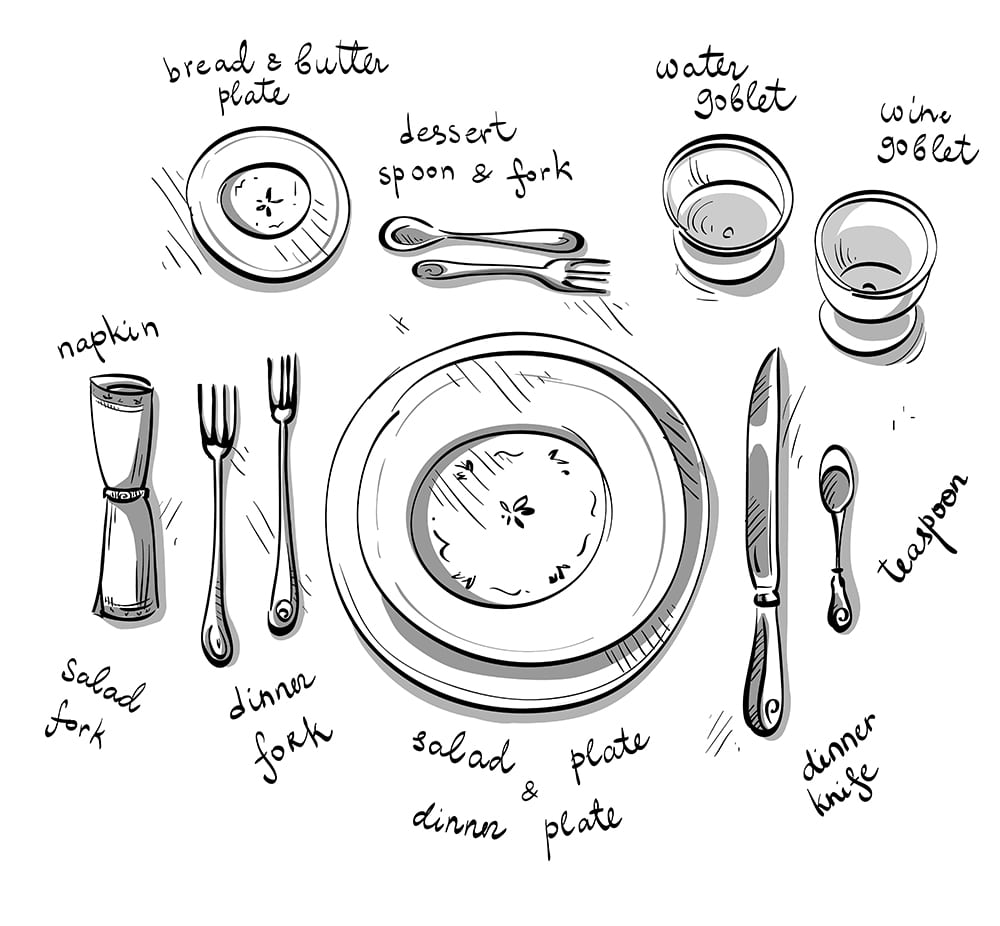 When it comes to every night meals after a long days work you may be lucky to find a few clean forks for your kids to eat with and that's perfectly okay, but when it comes to setting up your table for the holidays why not use the special occasion get a little fancy with it? Proper table setting and other etiquette techniques date back as early as 17th century, so why not use those timeless techniques for your most festive meals. Experts will tell you that etiquette is a basic part of life, determining things as simple as manners, with rules that govern even some of our most unconscious thoughts.
Have you ever thoughtlessly held a door open for someone or let someone else pass in front of you to avoid a collision? These are common etiquette practices that have each become a basic part of our lives. Etiquette matters because it is the thing that allows us to show unspoken respect to the people around us, it organizes us as a society, and more. Table setting etiquette is important because it's a thoughtful action done in love for the people who are joining your table. So if you're like me and you don't have a table setting and etiquette how-to booklet lying around, here are a few table setting basics that even you can accomplish with ease.
Table Setting Etiquette 101, if you will:
Keep your napkins to the side. Don't put your utensils on top of it or put it directly on top of your dinner plates. Making people rearrange their table setting to accommodate their food or sanitary needs is an extra effort you should spare your guests. In fact, turn your napkins into mini-decorations with napkin rings or something else that's festive and compliments your table décor.
Don't overdo it on decorations. Remember that the people you're sitting with will want to see and talk to each other, so keep the height of your decorations to a minimum to ensure that the energy at your table maintains a good flow and all your guests can enjoy each others company.
Maintain the holiday focus. Nothing ruins a nice fancy dinner more than everyone's eyes glued to their smartphones, tablets, and other devices. Do yourself, and your family, a favor by passing a basket around the table before dinner and collect all electronics. You may face some pretty negative looks and whispers, but stay strong and enforce the change. Before you know it your family will be laughing and talking together as if the virtual world wasn't the real world after all.
Don't be afraid to let the kids help. It's never too early to teach your little ones the importance of properly getting ready for company. Let them help you clean up the table and decorate, let them write the place cards or makes personalized decorations for the table. Getting them excited will help them feel accomplished that they helped you achieve something important. It's their holiday and family too after all, let them be a big part of the experience and take a few of the smaller tasks off your hands.
It may all seem like a lot of hard work, especially when you are dreading the long hours over the stove it takes to make such large meals, but you certainly won't regret the effort when you see how impressed your friends and families are at your awesome hosting skills!