"It is a source of happiness to see the elderly working in their garden or looking from their windows! It is so good to see them alive and well!"

― Mehmet Murat ildan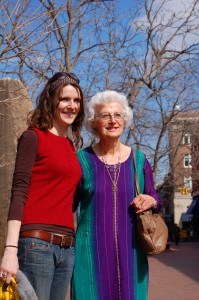 While Boston offers a variety of services to help the growing elder population remain independent as long as possible, many still require the assistance of loved ones. Family support is often the key to independence for our elder community but it comes at a cost. While we understand that you would like to be there all the time, the fact remains, for most Americans, this is simply not possible.
According to one AARP study from 2011, over 42 million Americans cared for an elder relative on a daily basis, while over 61 million others provided some assistance at some point during the year. Furthermore, the estimated economic value of their unpaid contributions was around $450 billion dollars in 2009 alone.  As our average age continues to rise, so too does the need for caregivers in the form of paid staff as well as loving and concerned friends and relatives receiving nothing but the comfort that their loved ones are taken care of. Recognizing a need for elder care concierge services, many personal concierge services now offer this type of service however, finding the right one for your loved ones can be difficult.
What makes a good senior care service?
For many American's their main reason for taking care of their elder relatives aside from a desire to help despite the time constraints, is the inability to find someone who can do the job well and provide them peace of mind. If you are looking for a senior care service you should be looking for someone who is:
Honest
Patient
Flexible
Good at Communication
Understanding
Knowledgeable
Reliable
Punctual
Compassionate
Experienced
Good Neighbor Concierge offers you peace of mind. Our services vary to meet your needs and requirements as well as those of your elder family member. From checking in to personal shopping, assistance with banking or the mail to daily tasks, the personal services offered by our senior care can be instrumental in giving you peace of mind and your elder family member the independence and confidence they deserve.
Senior Services Can Help Your Loved One Be:
More independent
More confident
More active
If you are assisting with the care of an elder relative and are overwhelmed and looking for help, contact Good Neighbor Concierge. Providing services in the Greater Boston area, we can be there when you cannot.  Help your loved one age gracefully and remain independent by taking advantage of our senior care services.  Call us today at 617.209.9311 for more information.