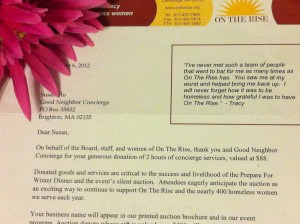 There is no greater feeling than giving back to the community. I have always been a believer in that.
I was recently contacted by a Cambridge-based non-profit organization called On The Rise. It is a day program for homeless women and a safe haven from the mean streets of Boston. The women who come to this program also receive resources on how to get out of homelessness. On The Rise was preparing for its annual fundraising dinner called Prepare for Winter to be held September 27, 2012, at the Royal Sonesta Hotel in Cambridge, and the staff was contacting me about the possibility of donating something of value to the event's silent auction.
I did not have to think twice.
I decided to offer two hours of my personal assistant services as a donation and mailed a gift certificate to be auctioned off at the fundraising dinner. I am so looking forward to assisting the recipient of the gift certificate soon!
Good Neighbor Concierge is a personal assistant in Boston. Serving many of the nearby communities, our services range from home care, to pick ups, family and senior care to wait-for services, car services and even travel services. If you are tired of spending all your time working and running errands and are wishing for more hours in the day, find out how our personal assistant services can help you.
Call 617.209.9311 today for a complimentary needs assessment!
Image credit:  Susan Ho