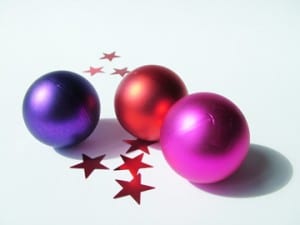 Hosting a holiday party and family gatherings presents opportunities to be creative and to display personal styles and tastes. If you will be entertaining guests this holiday season, there are countless ways to shave off costs and still execute an event to be remembered. On a recent blog post, we shared a few ideas to get you started. If you are looking to keep costs in check, here are a few more of our favorite ideas!
Decorations
Your home defines you in so many ways and you want it to reflect a positive image of style, organization and holiday cheer. Decorating is as fun as it is essential. Even the kids get excited as the holiday decor comes out of the boxes and your home is filled with the joy of the holidays. Dressing a home to perfection can be costly, but there are a few ways to cut costs.
Take the Do-It-Yourself Approach. Fill a glass bowl with seasonal produce such as red pomegranates and tiny pumpkins. Natural decorations always look lovely and will bring out the beauty in the food you're serving.
If professional centerpieces are too hard on the wallet, a beautiful and simple bouquet will turn any plain table into an attractive focal point.
Candles set out on a lovely tray easily blend with any home's existing decor.
Stock up on Black Friday sales right after Thanksgiving and make sure to visit your favorite stores the day after Christmas. These steals aren't available every day, and you can find timeless items to use forever.
Visit estate sales to look for incredible finds.
Guest List
Even if you have an endless list of friends, you don't have to include everyone on your guest list for your next holiday soiree. Hosting a smaller, intimate gathering of eight or fewer people will keep costs down and allow for more meaningful conversations and interactions.
The Menu
Your friends and family are attending your party to see you, not to take advantage of an opportunity to indulge in a fancy dinner. Skip more expensive proteins like steak or lobster and opt for less expensive menu items that are just as tasty. Some dinner menu options that won't break the bank may include:
Centering a meal around a soup is a great way to save money and please a crowd. Just pair it with a yummy appetizer and finish the meal with a light dessert.
Less expensive cuts of meat such as poultry can be braised and slow-cooked. Grab a bagged salad or two and a fresh baguette and you have a meal.
Dinner does not have to be a huge meal. Create an appetizer sampler by making or buying favorites like egg rolls, cheese puffs, shrimp cocktail and chicken skewers. Your guests will love the variety.
Armed with all of these great ideas, you are now ready to entertain this holiday season in style and shrink your costs at the same time. Happy party planning!
Image credit:  Wynand van Niekerk