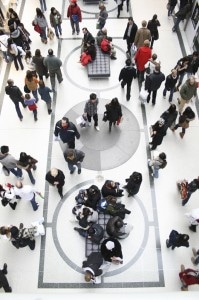 One of the great advantages of living in a large metropolitan city is having access to a wide variety of stores and services. But if you have a long list of errands to run, it can be difficult to squeeze everything in when you are running from one end of the city to another. With a little planning and organization, running errands is a chore that doesn't have to be a challenge.
A busy life doesn't have to be a hectic one. A little organization goes a long way toward preventing errands from running your life—even in the busiest cities.
Ensure You Won't Forget an Important Errand
Keep a copy of all your project goals, shopping lists and to-do's in one location where you'll be sure to see it before you go out.
Consider keeping your lists on a clipboard by the door that leads out to your car.
If you have a smartphone, there are many good reminder and list apps available for iOS, Android, and Blackberry users.
Develop a Plan
Look online or call ahead to see if there are any errands you can complete before leaving home.
Make sure you know the locations of all your stops and what might be on the way.
If you're going somewhere unfamiliar, use a GPS to find the best, most efficient route.
Consider time of day in order to avoid crowds. For example, if you're going somewhere down the street from a school, plan your stop for after 8 AM or before 2:30 PM, so you don't get caught in parent traffic. If you've got to go to the post office, avoid Mondays. Many people are doing their banking online, but if you find yourself needing to make an in-person visit, stay away from the 1st, 15th and last days of the month.
Break up your to-do list and enlist the help of others. Have the family involved or hire an errand runner to do the tasks you don't have time to do.
Errand day can be tough, but it doesn't have to be punishment. When you're making that plan, don't forget to find a way to make it fun for yourself. Consider making a special errand day playlist to listen to while you are driving from place to place. If your errands take up most of the day, work in time for lunch or coffee with your spouse or a close friend. A little break amid the hustle and bustle will make the day a lot more enjoyable.
Good Neighbor Concierge  Errand Running Services
Good Neighbor Concierge offers many services to help including errand running services. If you live in Boston and are looking for a way to save time, contact us at 617.209.9311. We can help you save time, reduce stress and maximized your day.
Image credit:  Dubes Sonego