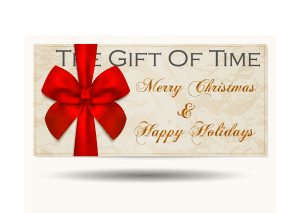 When it comes to gifts, finding that perfect gift can be difficult, especially for that person who has everything.  So when a knick-knack just won't do, what can you get? How about the gift of time? Offer someone you love the chance to gain some precious time back. Give them the opportunity to enjoy some quality time with someone they love by offering them the services of a personal concierge.
While concierge services were once reserved for the rich and famous, in a society as fast paced as ours, concierge services have become more affordable and even mainstream for virtually any income. No longer restricted to the high-rise apartments of downtown Boston, families and individuals throughout the U.S. from Newton to Tallahassee can now enjoy personal concierge services to help them make the most of their time once again.
If you ask someone what they enjoy most, a majority of people will say spending time with their family or someone they love. Unfortunately, with work, school and other obligations, this can be difficult, to say the least. Almost everything in life can be bought however, the one thing that can't be is time itself. No matter who you are, where you are from or how much money you have, time is time, unalterable and constantly running. While time may not be up for sale, services which allow people to maximize the time they do have are available.
Good Neighbor Concierge offers a variety of personal concierge services to meet the needs of all our clients. From errand running to shopping, organizing, paying bills, walking the dog or even planning a party, we can help.
The recipient of your Good Neighbor Concierge gift certificate will be able to choose from services which include:
Click on any of the above services to learn more about what they include.
Personal Concierge Services From Good Neighbor Concierge
Give the gift of time to someone you love this Christmas with a gift certificate from Good Neighbor Concierge. Pick up a gift certificate for someone you care about today and offer them something nobody else can, time. Follow the link here