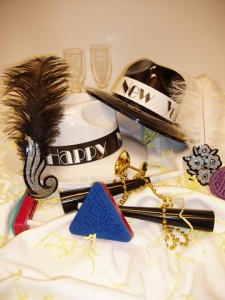 For generations of families like mine, it is a tradition to "sweep away the old and usher in the new" by getting the house in order. 
Our annual ritual begins just before New Year's Eve.  The home is a sacred place where love is shared and relationships are strengthened.  After weeks of nonstop activity from Thanksgiving to Christmas, the house is a chaotic mess.  Now that Christmas has come and gone and the dust has settled, I arm myself with a broom and dustpan to "let out the old and let in the new."  Here's how:
1.  Windows
Despite the winter chill, while cleaning I open the windows.  Doing so not only helps to improve indoor air quality but an opportunity to remove the buildup of leaves and dirt that accumulate all throughout winter.
2.  Laundry
No matter how much there is, this needs to get cleaned, dried, folded, and put away.  What can be worse than not having fresh clothes to wear on New Year's Day?  Yesterday's dirty clothes belong in the old year.
3.  Closets
Next order of business is to raid the closets and to separate the goods into two piles:  to keep and to donate.  If it hasn't been worn or used for a year, it's time to chuck it.

4.  Toys & Games
If these haven't been touched in a while, it's time to donate them so others can enjoy them.

5.  Bath
The bathroom is a high-trafficky place.  I focus on the spots that need the most attention, including the bath tiles and shower curtain.  The towels and mats are replaced with clean ones. 
6.  Dust
The entire house including furniture gets a good dusting.  As my mother used to say:  "You can't start a new year fresh by holding on to yesterday's dust."
7.  Pantry
I raid the kitchen pantry and check the expiration dates for any canned food item or other dried goods that haven't been consumed yet.  Those dates creep up fast. 
8.  Bedding
These get changed and replaced with clean ones.  Clean linens and bed sheets make for better sleep. 
9.  Clutter
To keep from getting overwhelmed, I tackle one decluttering project at a time and depending on how big the task is, I break it up. 

10.  Floors
These are cleaned last.  It's estimated that we track 85% of the dirt in our homes from the outside on our shoes, so having a clean floor is a must going into the new year.
Good Neighbor Concierge Provides Valuable Family and Senior Care Services In Boston
Regardless of how you usher in the New Year, whether it's singing 'Auld Lang Syne" or putting a penny on a windowsill, may it bring you a year of hope and good luck!  Certainly, as you plan out your activities throughout the year and you find yourself juggling multiple tasks and running in different directions, call on our services to provide valuable relief to your overwhelmed household.
Image credit:  Shondra Hull