Today, my travels took me to a small suburban city in Boston called Chelsea. A corporate housing company in Colorado contacted me to assist with a cable and wireless Internet installation inside an apartment complex. Their client will be moving into the apartment soon and would need the installation done prior to move-in. As a personal assistant, I was being asked to wait-for and watch over the entire install process.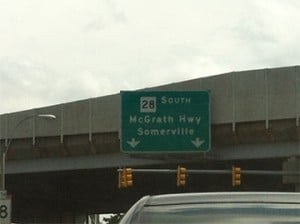 It was raining on the day of the install, so extra time was needed to travel to Chelsea. The apartment was located near Revere Beach Parkway. The fastest way to get to Chelsea from anywhere in Boston would have been Route 1 via the Tobin Bridge, but in the middle of the day, traffic was thick and the bridge was backed up. I ended up driving through Cambridge and Somerville via Route 28 instead. I love alternate routes.
I reached the leasing office 15 minutes before the appointed time. I was glad that I did, because it appeared the office staff was not prepared for my arrival. The office was messy with shipment boxes scattered on the carpeted floor, as if there was a recent relocation and staff did not have time to organize the office. There was only one staff person and the contact person assigned to release the apartment room key to me was not working that day. Imagine that.
As I waited for the staff person to make phone calls to confirm the cable installation appointment, a long line of people had already formed outside of the office. They were probably applicants or current tenants. After receiving the key, I left the leasing office and sensed her overwhelm.
The apartment was unfurnished, carpeted, and had a small kitchen, two full bathrooms, two bedrooms, a living room, and ample closet space. Moving into a new space will be exciting for this family.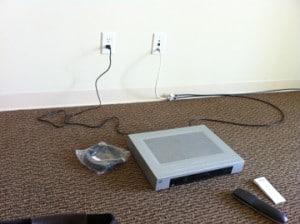 Nearly a full hour went by before the Comcast service person arrived. As he worked, the service person told me that he had serviced different areas of the apartment complex for many years and that he really enjoyed his work. The installation process took another hour as the service person worked on the technical pieces.
When the installation was complete and I vacated the apartment, a furniture delivery was being coordinated for the same day. It was exciting to know this apartment will not be empty for long and it was a joy to be able to assist in some aspect of the move-in.
Video and Images credit: Susan Ho