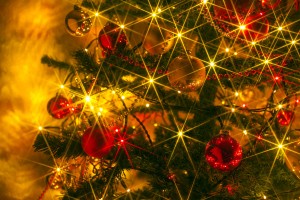 Small space living in Boston requires creativity when it comes to staying organized and living comfortably. Decorating a small space for Christmas can be a challenge, but you do not need much to make a big impact.
Because it is the central meeting place in many homes as well as apartments, the living room can be minimally decorated for the holidays and still dazzle. Read on for tips to help you deliver the Christmas cheer into your small living space.
1) Lights
Holiday lights take up no floor space at all. To deliver Christmas cheer anywhere in the house or apartment, string colored or icicle lights around windows, mantles, ceiling borders or along the base of walls for a soft glow from behind furniture.
2) Music
Holiday music really helps the mood arrive. Whether it is Kenny G blowing his saxophone to the classic Christmas tunes, or the Vienna Boys Choir sounding like angels in the background, breaking out your favorite holiday music is one of the very best ways to help this feeling arrive.
3) Stockings
Christmas stockings are another fabulous space saver. Even if you do not have a mantle or fireplace, stockings can hang on a wall, off the back of your couch or even in a line underneath a living room window sill. Christmas stockings evoke the anticipation of Christmas like few other sights.
4) Candles
Advent candles, a pine wreath with a single candle in the center, or pine sprigs all through the house sprinkled with candles near each one–all of these bring in the feeling and smells that communicate Christmas in every cell of our bodies.
5) Stories
Children's picture books sitting on table tops or standing up on a window sill give a great picture and visual of the season for the reason to give, smile, share and think about family, friends and good fortune.
6) Tree
This can go in a corner or on your living room table top. It can go in the middle of a kitchen table, or simply on top of an end table. Whether in colorful LED-lighted musical art pieces, practical fold-down fake but pretty out-of-a-box variations, or real live small trees on stands or living in a planter pot, Christmas trees come in just the right size for your needs.
7) Mistletoe
Hang this treasure from a string on the ceiling, drop it in front of your front door, over the kitchen stove, in front of your tree, or above your bed with a little ornament hanging on the end of the little branch. Mistletoe brings kisses, hugs and smiles without taking up any room at all.
8) Smells
Scents trigger emotions. Many Christmas candles come with fragrance. The best, though, is freshly broken pine branches sprinkled everywhere to bring the real scents to your mood-triggering, mini Christmas scene.
9) Colors
Winter white is a very modern interior color and works really well for Christmas. Augmented with ornaments on window sills or table tops, sprinkling around Christmas colors really helps set the mood.
10) Wreath
Be it on your front door, or hanging on the wall with a pile of presents under it–neither take up space in your small living space.
Christmas is a feeling, a sentiment and a value. When space is tight and spirits are running low, lift those spirits up with gifts, and soothing smells and sounds that trigger the deep feelings of holidays, friends and family gatherings. If the holidays are feeling crowded or overwhelming, delegate the holiday decorating to someone else to save time. Stress is the biggest killer of the holiday spirit, so do less and enjoy more.
Image: Uros Kotnik