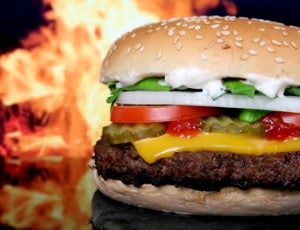 It just wouldn't be summer without a fabulous barbeque or weekend cookout! To be really spectacular, it should not just be delicious but also relaxing. Instead of getting overwhelmed with the whole planning process, a few simple steps will save you time and stress – guaranteeing a great time for all, including the cook!
To get a good time today, start with a good cleaning yesterday
In other words, make sure your grill is always clean and ready to go. Once the equipment is cleaned, keep it covered so that weather won't create a dirty mess to clean before using.
Save your leftovers
When you have finished with your grill and it has had time to cool, rake through the unconsumed charcoal to collect all of the leftovers. Coffee cans make great storage containers to keep these unburned bits ready for use next time. When you prepare to grill again, sprinkle them on top of the new briquettes. They light quickly and heat up fast, helping your grill reach cooking temperature in a snap!
Prevent sticking
Before firing up the grill, it is helpful to oil the rack with a vegetable oil spray to prevent food from sticking.
Speed up the starting process
Use a chimney charcoal starter to start your briquettes and quickly bring them up to cooking temperature. You can make your own or buy a commercial variety. Chimney starters are essentially just metal cylinders with ventilation holes added. The air circulates around the briquettes and encourages them to burn faster.
Marinate foods in advance
Whether you make your own marinade or use a commercially-prepared version, separate meat into zip lock bags and add the marinade to the bag. The process of freezing and thawing meat breaks it down to encourage deeper saturation of the marinade into the meat. Once thawed, the meat will be ready for the grill without further treatment and the bag can be tossed for ease of clean-up.
Chop ahead of time
Chop vegetables such as onions, bell peppers, and other condiments in advance and freeze them, minimizing prep time on the day of your cookout.
Shred it fast
If available, use a food processor or blender to shred cabbage for sandwich toppings or cole slaw. You can even add the mayonnaise or dressing and seasonings directly to the mix to ensure even blending in a flash. You can do the same with cooked chicken for barbeque sandwiches. Pull the chicken meat off the bone while it is still warm and blend it with barbeque sauce. Your sandwiches will be ready to serve in a heartbeat.
Get some help

Whether preparing for a party or just making it through a busy week of planning, shopping, and food prepping, sometimes you just need a helping hand. You can share the work with a friend or family member to relieve some of the burden and keep your stress level low. If you just need to free up some time to enjoy yourself before your party guests arrive, the services of a personal assistant to run last-minute errands and cut down an extensive to-do list would be helpful.
One of the high points of the season is a summer outdoor barbecue. With a little advanced planning and help, you can enjoy this warm weather tradition in the company of your friends and family. Just a few simple tricks will help the day run smoothly and the party enjoyable, for you and your guests.
Image credit:  Eastbourne Bed and Breakfast