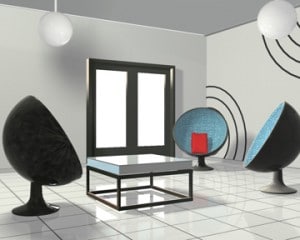 As the downsizing trend continues, homeowners and renters are carving comfortable living spaces out of increasingly smaller rooms. So, how are they doing it without breaking the budget? By utilizing a dash of creativity coupled with some old fashioned crafting tricks you, too, can design the room of your dreams. Here are a few tips to get you on your way:
Invest in a statement piece. Make a statement in your room with a fabulous sofa or luxurious bed. To stay within budget, think long-term. Look for pieces that will not become dated within a few years. Neutral colors and shapes will withstand future wall color changes and decorating challenges. You can add personality through lower-cost linens and pillows.
Look up. Make use of wall space by adding taller shelves, higher bookcases and hidden space above existing cabinets. Hang the flat screen television on the wall to free up valuable floor space.
Look down. Carpet remnants are an inexpensive alternative for smaller rooms. It never hurts to ask someone at the local carpet store if they can bind the edges for free. Again, keep the flooring neutral; top a low-pile carpet with a smaller, more colorful throw rug to add a dash of color and to define a focal point.
Get crafty. Throw pillows, lamp shades, furniture throws and other fabric elements of a room are quite easy to design and sew yourself. Invest in an inexpensive sewing machine, follow online tutorials and start creating the room you've always wanted.
Shop online. Websites such as Overstock.com, etsy.com and even eBay are great places to find one-of-a kind decorating items at phenomenal prices.
Don't let a small room and an even smaller budget derail your inner decorator. Get out there and create! You might be surprised at all the cool space you find.
Image credit:  Marcus Delacruz