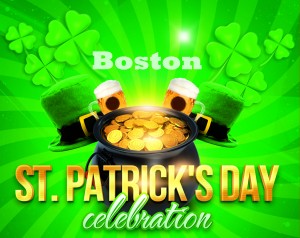 Each year Boston hosts one of the most well known and largest celebrations for St. Patrick's Day. A city with deep Irish roots, there is not much more Irish than a trip to "Southie" for some bag pipes, floats and more.
Much more than "just" a parade, the South Boston St. Patrick's Day Parade is a day long event for the whole family. Dating back to 1901, the first St. Patrick's Day Parade in South Boston was led by Major George F. H. Murray. Celebrating much more than just the Irish roots of the city, Suffolk County celebrates what is called Evacuation Day in addition to St. Patrick's Day. A day commemorating the evacuation of the British forces from Boston following the Siege of Boston in the Revolutionary War, the two celebrations are combined to make one of the largest and most popular events in the city.
While St. Patrick's Day Parades have been held in Boston since the late 1800's, Evacuation Day was not made a holiday in Boston until 1901. The St. Patrick's Day Parade of the past was gone and the Evacuation Day/St. Patrick's Day Parade began. On March 12, 1941, March 17th became a holiday in Suffolk County and was signed into being with both green and black ink.
This year's parade is Sunday the 16th, the eve of St. Patrick's Day at 1:00 pm and will run for about 2.5 hours.  The parade will begin on West Broadway (easterly) and make its way down E Broadway to E 4th St, E 5th St past Thomas Park, and end at Dorchester Avenue. Each year close to 1 million people head to South Boston to see this popular parade and spend some time being Irish. While there is not really a bad place to see the parade, with so many people planning to set up along the side of the parade route, often the key to the best spots is simply getting there early enough. Thomas Park offers great views; however, it is usually quite popular with other parade goers as well, making getting a great spot difficult.
*Those planning on going to the parade, take note of the street closings as getting around can be difficult. The T may be the best way to get there; however, it will also require leaving early as the stations closest get very crowded close to parade time.
To see on online map of the parade and find out more about street closings, you can find it here on the official South Boston Parade website.
Other fantastic St. Patrick's Day events this year include great music and great celebrations such as the Dropkick Murphys at the House of Blues from March 13th to March 16th, a Celtic Celebration Weekend at Old Sturbridge Village on the 15th and 16th, A St. Patrick's Day Celtic Sojourn with Brian O'Donovan at Sanders Theatre, Guided Walks of the Irish Heritage Trail throughout the month and Celebrate! St. Patrick's Day at the JFK Library.
Bring your blankets and your lawn chairs and enjoy this great day of celebration!
Boston Personal Concierge
Good Neighbor Concierge is a Boston Personal Concierge. Learn tips make the most of your time with us.