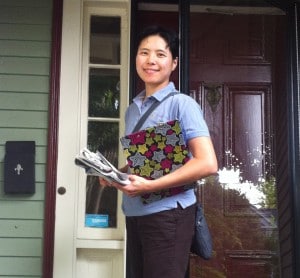 We recently had the awesome pleasure of assisting a long-time homeowner in Newton with watching over his home whenever he was away on business and personal travel. The 19th century Victorian house he had been sharing with his wife and kids for many years was recently put on the market for sale, and we would be assisting on an as-needed basis until the home was sold.
It is interesting to note our client's decision to stay back in Boston to ensure the successful sale of the family home before joining his wife and children in the Midwest, where they are living now as the family recently purchased a new home there. The distance from loved ones must be a daily challenge, but we get that our client is taking each day in stride, keeping up with home maintenance projects and general upkeep, and delegating tasks to others when he is away.
At our first meeting in his home, the client informed us of his travel dates, gave us a house key, walked us through the entire home, and highlighted the tasks he requested of us: picking up mail and the Newton TAB newspaper, checking that the lights are not left on (unless they are on a timer) and the water is not running, ensuring the timers on different lamps are working properly, checking the skylight in the attic to be sure it is providing some airflow to the children's play area but not so high up that rain can seep through, checking on the windows, and watching out for anything that seems out-of-place.
As our client goes about his travels, we stop in to do house check-ins at least twice a week, on random days and random hours. We love that our client has in place a dead bolt on the heavy front door, timers set on different lamps to turn on at various times in the evenings, and tall thorny bushes at the front of the house. It is clear our client had burglar-proofing on his mind, despite the quiet and safe neighborhood that surrounds his home. Despite the imposing size of the home (three floors of living space with six bedrooms and a full basement on a half-acre lot), each check-in visit takes no more than a half hour to complete with the bulk of the time spent concentrating on tiny details.
We look forward to our next visit!
Image credit: Susan Ho