Everything about this store oozes with class, impeccable quality, sophistication, and elegance. This is the kind of place where men and women come to buy the best of the best in textiles and leather goods, and to expect nothing more than the best.
Welcome to the fashionable world of Hermès.
This week I had a taste of this amazing shopping experience myself. A client in Canada had a canvas steeple wallet on hold in her name and needed me to purchase it from the Boston store and ship it same day to her. It is meant to be a gift for a family member. The price tag? More than $600.
The Hermès boutique was perfectly situated near the glitz and glamour of the Ritz-Carlton and Four Seasons hotels, on the corner of Arlington and Boylston streets, and across from the Boston Common.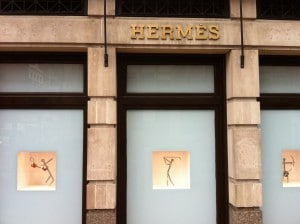 Given the time constraints and knowing on-street metered parking would be difficult to find, I took a chance to drive into the city anyway. Miraculously, I landed a parking space near the Boston Common at the height of lunch hour during a workday. Even better, the parking space still had half an hour left on the meter, more than enough time to park and run into the Hermès boutique and pick up my client's order!
Inside the store, I was greeted immediately before I even had a chance to lay eyes on anything. I got the impression that this was not the kind of place to shop at my own leisure pace; I needed to know what I was looking for.
The client's item was purchased and then it was packaged in the brand's signature orange gift box. I was in and out of the store in ten minutes, and returned to my car with five minutes left to the meter.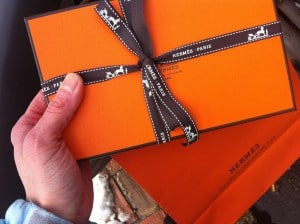 Later that day, the Hermès box with the client's purchase inside and receipt were neatly placed into a box within another box to be shipped via USPS Express Mail International to the client's home in Ontario.
Four days later, the client notified me that she received the shipment and she could not be more excited, like a child opening presents on Christmas morning. Gift shopping at its best!
On a last note, if you have never set foot inside a Hermès store, or even had an opportunity to browse, this video is a cool visual of what to expect from a visit.
If you need gift shopping help, please allow us to assist. Why waste time running through the stores when our personal concierge can do the running for you? Contact us today and start finding the time you have been missing.
Images credit: Susan Ho
Video by youtube.com/ernskiejun