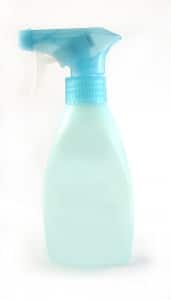 Spring cleaning is a wonderful ritual to mark the end of a long, dreary winter. After all, if you've been stuck inside for months, there's a good chance your home could use a thorough cleaning.
Many of today's cleaning products contain harmful chemicals that are detrimental to the environment. To be more gentle with the Earth and to protect your family's health, consider the many natural ways to clean your home this spring using everyday products found in your pantry or bathroom cabinet:
Polish the chrome faucets in your kitchen or bathroom with toothpaste. To clean the faucet, put a little toothpaste onto a cloth, rub it onto the chrome, then buff it off with a clean cloth.
Reduce the scuff marks on vinyl floors by rubbing with a dry cloth and toothpaste. Be sure to clean all the toothpaste off the floor.
Use baking soda to remove odors in carpeting and upholstered furniture. To freshen rugs or furniture, sprinkle them with baking soda, leave it for about half an hour, then vacuum.
Use cooking oil to get your wicker furniture ready for those warmer days that are beckoning you to come outside. To prevent patio furniture from drying out in the sun, warm some oil in a saucepan (makes it easier to spread), then put it on a cloth and rub it into the rattan or wicker.
Clean your cutting boards with lemon juice. Squeeze the juice onto the cutting board, let it sit for half an hour, then rinse with dish soap.
Deodorize your garbage disposal unit with lemon as well. Cut a lemon up and grind it through the system to eliminate unpleasant odors.
Make windows sparkle with vinegar. Mix a small amount with water, add the solution to a spray bottle and use like any window cleaner. There's no chemical smell and no streaks.
Get the musty smell out of old books with cat litter. Place clean cat litter in a box, put a clean piece of paper over it, set the books on the paper, and tightly close the lid. It may take a while for the odors to leave, but eventually they will.
Invest in a microfiber dust cloth. The dust will cling to the cloth and you can take it outside to shake it clean.
On finished hardwood floors and no-wax vinyl floors, use a mop that has been lightly dampened with a vinegar/water mix, then wring the excess solution out before using.
The best thing about these spring cleaning tricks is not only they are easy on the environment, they are also easy on your pocketbook. You'll have a clean, fresh-smelling home in no time.
Image credit:  Svilen Milev