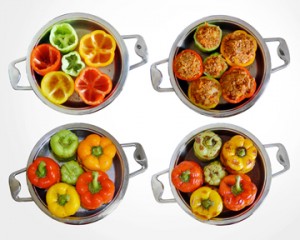 Spending large amounts of time in the kitchen whipping up 3-course meals is fine for those people who have the time. For the rest of us, it is often a challenge to find meals that are quick, easy, and also nutritional. Families with dual income earners, children in school, and extra curricular activities, often find dinnertime to be a nightmare. Follow these time management tips, and you can turn dinner chaos into the relaxed, enjoyable sit-down meal your family deserves.
Plan, Plan, Plan!
One of the most important time management tips is planning. Making a plan is crucial in order to save you time and sanity. Take time each week to sit down and take stock of items that you already have. Ask yourself:
Are there leftovers that need to be eaten?
What do you have in the freezer or pantry?
What is on sale this week at the grocery store?
Are there any important evening events for your family?
Having a handy list of family favorites can also help with meal planning. Once you've determined the menu for the week, write the name of the entrée on a calendar, including the page number from the cookbook (if applicable), and any prep work that needs to be done, such as taking the meat out of the freezer to thaw.
Learn to Love Leftovers
If you are making something that can be frozen, always plan for extras. Make a double batch, and throw the leftovers in the freezer for a quick meal the following week. Meals like casseroles, spaghetti sauce, chili or soup taste just as great the second time around.
Research 15-Minute Recipes
Nutritious meals don't necessarily require you to slave over the stove. There are many meal options out there that are good for you and easy to prepare. Many of these family-friendly foods may not win any culinary awards, but they pack a nutritious "punch" and require almost no preparation time. Meals like soup and sandwiches or whole wheat pita pockets are sure to please and can be whipped up in a hurry.
Use Your Appliances
If you don't already have one, consider investing in a crockpot or bread machine. Place a roast or chicken in the pot in the morning, turn it on, and come home to a hearty meal. There are so many different crockpot recipes out there, you could use one for dinner every night and your family would never get bored! Bread machines can cut the time it takes to make pizza dough or homemade bread. Imagine coming home from a long day at work to a crockpot of your favorite stew and a warm loaf of homemade bread – all you'd have to do is serve!
Assembly Required
Having one night a week where you prepare a buffet style meal can be quick, kid-friendly and nutritious. With a little chopping, you can create a salad bar with toppings like croutons, black olives, cheese, ham or bacon, and hard-boiled eggs. Another option is baked potato night, where the whole family can get creative with their toppings.
Get everyone Involved
One way to beat that dinner stress is to involve the kids. They can help by clearing the counters, getting out whatever pots and pans are needed, or setting the table. As your children age, they can take a more active role like stirring, mixing, chopping and cleaning up. And for time savings, accept help whenever you can. It is well worth the money.
Many moms feel guilty when they don't have the time to prepare homemade dinners. But with these time management tips, and a little organization and creativity, preparing quick and healthy meals can be a breeze.
Image credit:  Michaela Kobyakov