Those already familiar with Boston and the hassles involved with getting around know that planning your mode of transportation and your route are two of the most important aspects of your daily life. From when to avoid I-93 to when to choose other modes of transportation such as the Massachusetts Bay Transportation Authority or MBTA, most find that establishing a route quickly is necessary to making the most of their valuable time.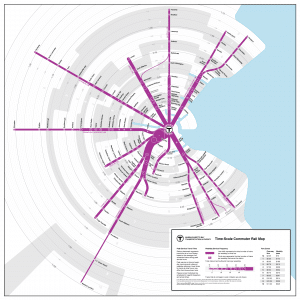 Those just moving to Boston or those simply looking for ways to save time may find this time scale map of the MBTA Commuter Rail useful.
Click Here for Link To Map For Purchase From MBTA
The map shows the average travel time in addition to the cost to and from Boston via its 134 commuter rail stations and 12 lines. Helpful in establishing the amount of time you will require as well as the amount of money you will need, this map illustrates that even a few minutes a day add up quickly in regard to how much of your valuable time is spent traveling to and from work.
If you are relocating to Boston it is important to note that for millions of Bostonians, mass transit is a way of life. Birthplace of American mass transportation, Boston's public transportation service dates back to a family operated ferry service in the 1600's to what we see today, the oldest and fourth largest transit system in the world. According to Walk Score, a company whose goal is to promote walkable neighborhoods and alternative forms of transportation other than cars for the betterment of the environment, Boston's MBTA was ranked 3rd best in the country for public transit just behind New York and San Francisco.
Relocating to Boston – What to Consider
Finding the right community to relocate to starts with finding the city which will best meet the needs of you and your family however, if you are planning a commute each day, you will likely need to factor this in as well. Understanding how the MBTA works is important when choosing which communities to consider for example, certain lines go to certain areas. Choosing to live/work in areas which are not on the same line can increase you commute time greatly.
Each day, the MBTA carries over 1.4 million passengers. While this may seem overwhelming at first, when you understand how to get where you are going, you are going to not only save money on gas spent getting to and from Boston but valuable time as well. Committed to providing safe and efficient transportation options to Bostonians, the MBTA is also committed to a more sustainable environment.
Save time, money and protect the environment by taking advantage of this helpful service when you live and work in Boston.
Good Neighbor Concierge is a Boston personal concierge serving the greater Boston area and offering a wide variety of services including errand running services, travel services, house sitting services, family and senior care, office help and administrative support, wait-for services, entertainment planning services and much more. If you need more time, contact us at 617.209.9311 and find out how we can help you today.