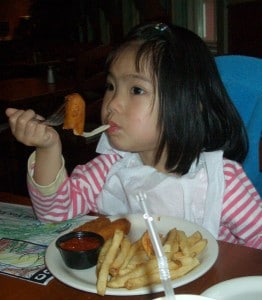 Ah, fall. The kids head back to school, the evenings turn crisp and that delightful autumn refrain floats through the air once more: "What's for dinner?" Summer meant family dinners, enjoying the longer days and vacation time. But fall means business, schedules and the routine of school and work. Avoid falling into the frozen pizza, take out dinner trap by planning ahead so your family gets a nutritious meal for dinner time.
Planning Ahead

Planning ahead on your part makes a world of difference when dinner time rolls around. It may seem like a lot of work now, but once these planning habits become a part of your weekly routine, you'll find they save a lot of time.
Create a Menu: Start by creating a weekly menu taking into account your family's schedule for the week. Swimming on Tuesday? Plan a simple meal. Working late on Thursday? Have leftovers. Your menu should consider what food staples you already have on hand and become the guide for your shopping list.
Return of Sunday Dinner: The benefit of making a large Sunday dinner is two-fold. First, you get to sit down with your family for an extended meal, connecting and talking before the week takes over. Secondly, you get leftovers that make easy lunches or quick dinners. A roast chicken on Sunday becomes soup on Wednesday. A pot roast turns into tacos later in the week. And lasagna just gets better with time.
Go-To Meals: Everyone has a few go-to meals for entertaining. You can have them for weekly dinners, too. These are those you know how to make, your family likes and that you always have ingredients for. Hang a list of these meals on your refrigerator for quick reference during your weekly planning.
Veggie Prep: After grocery shopping, wash and cut vegetables and fruit. Prep time often takes the longest when you're cooking. Having all your vegetables already cut up will cut down on the time it takes to cook. Plus, you will have fresh and healthy snacks ready to go for the kids while they wait for dinner.
It Takes a Village

Feeding your family healthy meals during the week can't be a solo enterprise. You will need help to pull this off. Start by enlisting your kids to help you plan and choose meals. They can also come along to the store and help push the cart, organize your coupons or pick out the vegetables they like the best. Your spouse can help with prep work or you can take turns making dinner depending on what other obligations you have during the week.
Many busy families have also turned to personal assistants and concierge services as well. These helpful services can create menus for you based on your calendar, make shopping lists and even shop for you.
Stick to a Schedule

Creating menus, cutting vegetables and planning ahead go a long way toward bringing back family dinner time. Sticking to a schedule will help, too. Have dinner the same time every night and you're more likely to stick to your routine. You can also create and share a family calendar using a calendar app that syncs your phone and computers. This can be especially helpful for families with teens who have busy schedules.
Just because school is back in session doesn't mean you have to say goodbye to the family meal. A little pre-planning and a little help from family or a personal assistant will keep your family healthy and happy into the school year.
Image credit:  Susan Ho