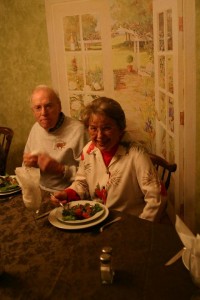 Americans are living longer. Many Americans who are in their 50's, 60's and even 70's are finding themselves caring for elder parents and relatives today. If you are one of the lucky people who are an adult and have an active and independent senior parent or two who are living on their own, you likely worry about their safety and well-being. Things we take for granted when we are younger such as stairs, opening doors or getting in the shower become more difficult as we age. From falls to trips or accidental burns, these are just a few of the concerns we face as our parents get older.
If you have elder parents who live on their own or are considering moving in with you and your family, take a look at 20 helpful tips for making life easier and safer with just a few simple home modifications:
Install railings on all stairways for safety
Replace all door knobs with lever type handles for ease of opening
Be sure water heaters are not set above 120 degrees to avoid scalding
Install lower nap carpets as deeper rugs can be difficult to walk and cause falls
If floors are hardwood, avoid high gloss polishes or loose rugs to prevent falls
Level floors between rooms to prevent tripping
Install grab bars in tubs and near toilets to help with getting up and stability
Consider walk-in bathtubs to allow elders the ability to bathe privately
Consider taller toilets to make it simpler to use for those with poor joints or bad knees
Install better lighting and avoid low light conditions throughout the home as our vision deteriorates as we age
Be sure that smoke and carbon monoxide detectors are present near all sleeping areas
Move light switches near the entryway to all rooms if not already there
Be sure there is a fire extinguisher easily accessible in the kitchen area
Avoid cords in walkways
Install nightlights in bathrooms and hallways
Place nonskid mats inside and outside of showers
Reorganize cupboards by putting frequently used items lower and easier to access
Reduce clutter
Ensure that all parts of the home are wheelchair accessible
Talk to your parents and ask what concerns them
Good Neighbor Concierge
Good Neighbor Concierge is a personal concierge and personal assistant service that provides a variety of personal services including elder and senior care in the Metropolitan Boston area. If you have elder parents or relatives and are looking for someone whom you can trust to help maintain their independence, we invite you to contact us today at 617.209.9311. For a closer look at our family and senior care services, visit our Family and Senior Care Services page here for more information.