Are you looking for party planning services Reading MA?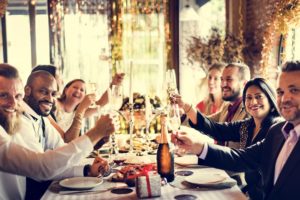 Planning the perfect party, whether it's a simple child's birthday party or a major corporate event that could lead to a promotion, is not an easy feat. Between the rise in food allergies you have to be concerned about, and the unique tastes and preferences of each guest, there are simply too many variables to keep track of to not go a little insane from the stress. That's why, if you want to spare yourself a lot of headache, we urge you to take advantage of our helpful party planning services at Good Neighbor Concierge. Our spectacular party planning services make bringing your ideas to life easier and more cost-effective than ever before, and include the exceptional assistance of incredible party planning professionals who will stick by your side every step of the way. From making reservations for venues, hotels, caterers, and more; to overseeing all the set-up and break-down efforts before and after the event, you can always rest easy knowing that every moment of your incredible party is being carefully planned and watched over by our seasoned party planning service experts! And that means you get to relax and actually focus on enjoying the festivities you're in charge of rather than just worrying over the details. We're certain our event planning services and professionals at Good Neighbor Concierge will impress not only you but also all your guests from Reading as well, so hurry and get ahold of our event planning service specialists today. After all, we can't wait to see how our remarkably convenient services at Good Neighbor Concierge are able to help your party dreams come together!
Party Planning Services Reading MA
Good Neighbor Concierge is pleased to be able to offer our most exceptional party planning services to those in Reading, MA, who simply need a little extra help turning ordinary get-togethers into an extraordinary events. Reading is the perfect place to live if you want to be able to throw a great party! It's less than 20 miles from the center of Boston, which means plenty of fantastic caterers, entertainment, and more nearby to choose from – plus, Reading has a plethora of available venues nearby for any and every occasion. Looking for a place in Reading to kick back with your family and eat some ultra satisfying food? You can't ignore Bertuccis! Need something really impressive? The John Joseph Moakley U.S. Courthouse is perfect for all your indoor and outdoor party needs! The list of great places and amenities near Reading is expansive. Just because there are a lot of options in and around Reading for making any party grand, doesn't mean you should ever be left stuck with all the planning. If you live in Reading and are organizing an event, take advantage of our unique event planning services at Good Neighbor Concierge today. We'll make sure your party is a hit.
If you are looking for party planning services Reading MA, call us at 617.209.9311 or fill in the following form to schedule a no-obligation needs assessment at a time that is convenient for you.